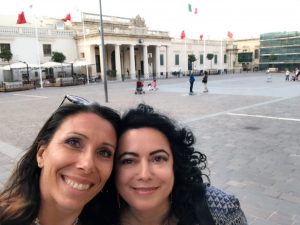 So … my life is by now quite split between Malta and Germany and I am enjoying both countries. But I admit to appreciating the pulsing life you can find in Malta's capital! It is a melting pot of cultures, and as an Italian I can testify to that. As I was strolling through Valletta together with my sister – we are posing here in front of the Italian Embassy ?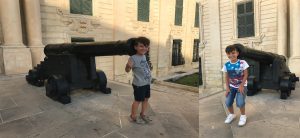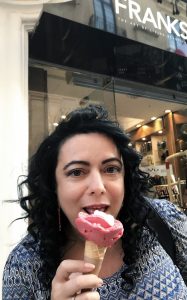 and her two little rascals, I still could not refrain from looking out for interesting beauty spots. And thus, after a delicious and really interesting ice cream – it was formed like a rose – I saw a beauty bar in Republic Street.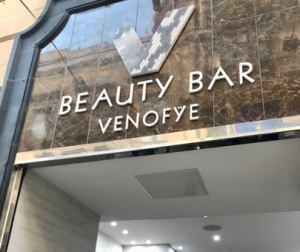 The appearance struck me as elegant and high-end but I still wondered: what is a beauty bar? Are you supposed to … make up your face yourself and pay a fee at the end? Go in as an ugly duck and come out as a goddess? Do they sell beauty on a stick (like my ice cream?)
I decided to take a look.
The interior was again quite sophisticated and I was greeted by a very nice woman who explained what the bar was about.
There were no espresso shots but a new cosmetic brand which works with … wait for it … venom!
(Not drinking it). The name of the cosmetic brand is Venofye and with its own words: The company has emerged as one of the hottest new brands in the world of skin care. Our result-oriented approach had us look beyond the conventional to find solutions to one of our most pressing issues – aging. What we found was venom, considered to be one of the best anti-agers of the modern time.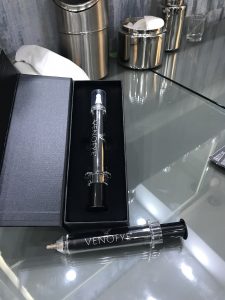 Well, because of my advanced age I am of course interested in everything which promises to slow down (I do not dare to believe: erases) the signs of aging.
Venofye states a bold claim: their products reduce the look of deep wrinkles, but how far can they prove it?
The same nice cosmetician who welcomed us, named Ema, offered us a trial on our skin. We accepted, as you can see here (I took a picture of my sister because it was easier to film).
The product used was the Viper Lift Bio Syringe – the name speaks for itself – which is also Infused with vitamin E (Tocopheryl Acetate) and Sodium Hyaluronate.
You can see my skin around the eye here. The "wrinkle" which you can see on the corner of my eye is not a wrinkle, but an extremely old scar (according to my mother, I got it as a toddler).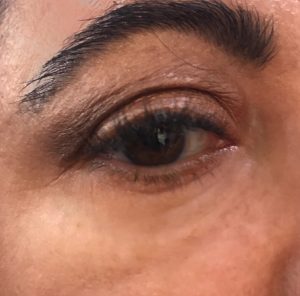 How was it? Well, the feeling was for both of us a little strange at first, like hundreds tiny hands pulling the skin in every direction. Yes, the skin really felt tight, which was not pleasant at first. BUT: every single wrinkle disappeared and it stayed that way until the evening.
I cannot tell you how permanent the change would have been, as I had only ONE application and there is a syringe full of it. Nevertheless, I was impressed!
The price of the product is actually as bold as their claim, but it is justified if it performs exactly as a surgery (although with a surgery the final result is always a surprise).
That was my post and commentary today and I would really appreciate your input on the matter!