This is a guest post about hyaluronic acid in anti-aging skincare written by Ms. Antoinette Angel, owner of the farma-plus pharmacy and founder of the Antoinette Angel Skin-Pharmacy. She has developed a dermatological product line, combining her pharmacological knowledge with a practical use. The line is manufactured together with other pharmacists. The main feature of the products is a simple formula with an extremely high concentration of active substances (starring hyaluronic acid in this case). All ingredients are of pharmacological and therefore high quality. The motto of her line corresponds to her life credo: SIMPLY – SPECIAL.
And now, the post!!
For my first post I have chosen hyaluronic acid since it is the substance I like best. It is a true all-rounder which makes the skin look fresher and plumper by replenishing lost moisture.
It is THE FILLER par excellence!
For this reason, you will find hyaluronic acid in many of our products, either as a main active or as an auxiliary – mostly for daytime skincare.
Hyaluronic acid – the bath tub for your skin!
SIMPLY SPECIAL: Hyaluronic acid possesses the ability to bind a huge amount of water compared to its mass (up to six litres of water per gram). And we use exactly the extraordinary capacity hyaluronic acid to hold more than 6,000 times its weight in moisture to obtain "the filler effect" in our products!
WHAT IS HYALURONIC ACID? It is a polysaccharide, to be precise a glycosaminoglycan which is an essential component of the so-called of the extracellular matrix in almost all vertebrate animals, including humans. This matrix is important to anchor the cells and therefore keep the shape of tissues constant. In humans, hyaluronic acid is present almost everywhere. We find the highest concentrations of this material mainly in the skin, in the cartilage, in intervertebral discs, in synovial fluid (inside the knee joint, keeps our knee caps happily moving) and in the vitreous humour of the eye (i.e. the transparent jelly-like tissue filling the eyeball behind the lens).
HYACARE: The source of our hyaluronic acid. It is the newest, state-of-the-art generation of hyaluronic acid, obtained by enzymatic fermentation through a modern biotechnology and whose manufacturing process is similar to that of yoghurt.
HOW DOES HYACARE WORK?
It covers completely the skin surface, moisturizing the skin, and makes it smooth, even, soft and silky.
It sets in the wrinkles, plumping and filling them for four to five hours from the application.
It is a micronized acid, which is partly absorbed by the skin follicles and reacts as a filler for connective tissues, increasing their suppleness and reducing the depth of wrinkles.
Description of the products, available at Angel Skin Pharmacy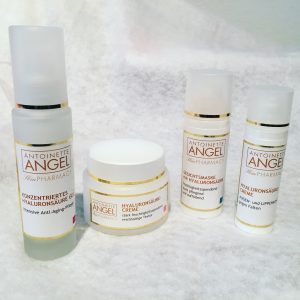 HYALURONSÄURE-GEL Konzentriert(CONCENTRATED HYALURONIC ACID GEL) – formula with enhanced effect
Intensive anti-aging treatment 50ml
This gel contains highly concentrated hyaluronic acid, with a strong hydrating action, for visibly minimized wrinkles and glowing skin.
Ideal under anti-aging creams.
HYALURONSÄURE-CREME(HYALURONIC-ACID-CREAM)
A super-moisturizing, nourishing texture 50ml
Effectively re-plumps your skin, giving it a smooth and radiant appearance.
(Alternatively, a cream with a lighter texture is also available, in a 50ml jar)
HYALURONSÄURE-CREME AUGEN-UND LIPPENKONTUR 30ml (HYALURONIC-ACID-CREAM FOR EYES AND LIPS)
Firming with a filler-effect
Re-plumps fine lines, smooths the delicate skin around the eyes and lips. Acts against the loss of tonicity in the tissues.
Visibly improves the skin appearance of lips and eye area.
FRAGRANCE FREE. TESTED UNDER OPHTHALMOLOGICAL CONTROL.
GESICHTSMASKE mit HYALURONSÄURE50ml (FACE MASK with HYALURONIC ACID)
Mask with filler effect. Specific, intensive moisturizing care for face and neck.
Restores skin balance and boosts the effect of the usual treatment.
Formula with an immediate action.
FOR A MORE BEAUTIFUL SKIN
HYALURONSÄURE-KÖRPERLOTION (BODY LOTION WITH HYALURONIC ACID)
With LACTOBIONIC ACID, 250 ml dispenser
Hydrating and firming.
Intensive moisturizer, makes the skin smooth and radiant. Quickly absorbed.