A couple of months ago I was asked by a company named PROCEANIS® if I wanted to try a new product, with the promising name of Hyaluronfiller. More promising was also the fact that it did not came in the usual form, that is as a cream or serum etc., but as a dietary supplement to drink.
I expressed my interest and three weeks ago I started drinking the supplement.
Why was I immediately caught?
Because, if you have dedicated like me a goodly amount of time getting informed about the actives in cosmetic products that really work, the word "hyaluronic acid" is due to promptly catch your attention. Hyaluronfiller is of course a step above!
For those who were not as dedicated:
Click here for an explanation.
For more in-depth knowledge I recommend reading the page of the producer PROCEANIS®.
Hyaluronic Acid in brief: since it holds a huge amount of water in all our tissues, it is a key element in keeping the skin smooth, supple and young.
Back to the reasons for my interest:
As a middle-aged woman I need to do everything possible to keep my skin hydrated in order to prevent the signs of aging or fight against them.
Applying a product on the outside is doubtless helpful, but I think that boosting the hyaluronic acid content from the inside must be even better. This way, the deeper layers of skin usually inaccessible from the surface can be penetrated by the hyaluronic acid molecules, reaping its benefits. And this method is surely healthier and beats injecting continually hyaluronic acid in your skin.
PROCEANIS® Hyaluronfiller was originally developed for medical purposes, e. g. to keep the joints lubricated and for the founders was a logical conclusion to look for applications in other fields, like beauty.
Shortly, I thought it was heaven-sent, since I wear prosthesis in my cervical spine and I am very conscious of the importance of keeping the intervertebral discs in working order – hyaluronic acid is responsible for their structure.
Furthermore, I have also started a weight-loss programme which can take a toll on the skin.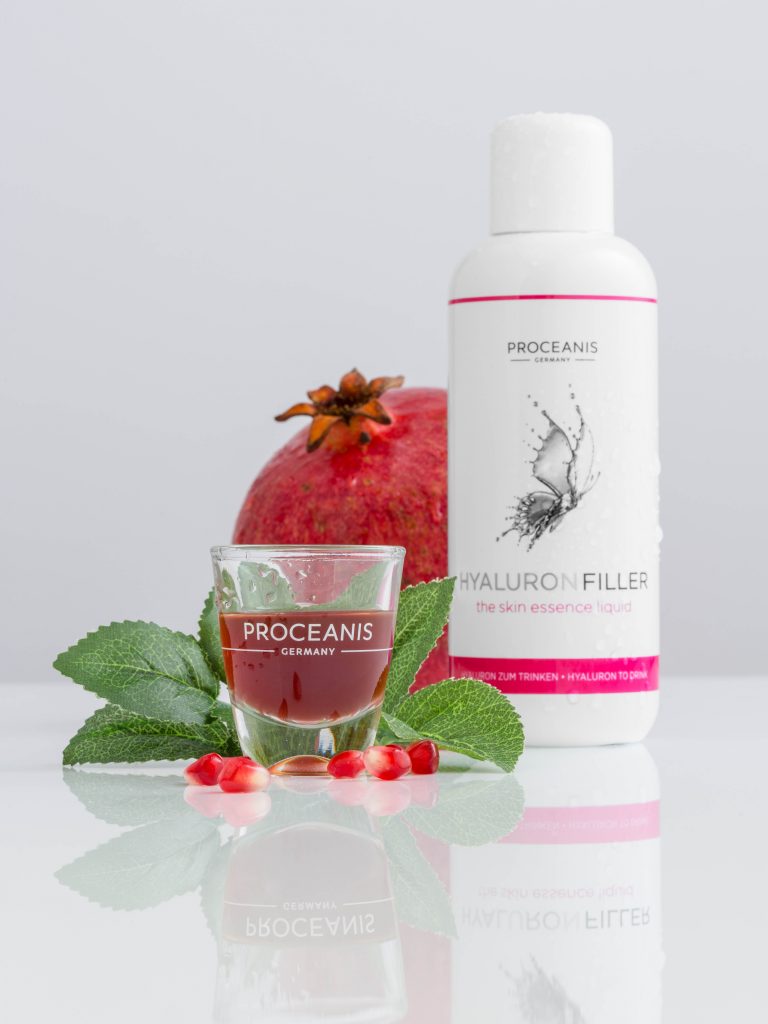 The PROCEANIS® Hyaluronfiller comes in a very appealing, premium looking packaging. The bottles are inserted in a sturdy cardboard box which already contains a dosing glass (so you do not have to look for an appropriate container every time you want to drink it). You can drink the Hyaluronfiller whenever you like, once per day. Daily dosage: 10 ml.
Very pleasant, fresh taste. You can perceive immediately the pomegranate, which is a main component of the drink.
Please click here for more information (I have prepared a small data sheet).
The basis of the PROCEANIS®Hyaluronfiller is a Hyaluron-Komplex with a molecular structure which is optimised for the human digestive system. Its liquid formula allows an effective absorption and is also a prerequisite for a visible and tangible result.
.
I will post again in three weeks, after completing the "six-week-therapy" to compare the results and see if there was a skin improvement.
In the meantime, feel free to inform yourself about this interesting product at the PROCEANIS® site! And if you are already convinced of this product or are impatient to try it yourself, use the code AdeleWithLove to buy it with a 15% rebate.