How many of you happened to stand before the mirror thinking: WHOSTHAT? Bride of Frankenstein? Morticia Addams? Not me, surely? I want to go back to bed!!!
There are days in our life, which follow nights of partying (although, these are the best reasons EVER to feel out of sorts the day after), heavy drinking against ones better judgment, evenings spent staring at the computer screen – courtesy of an urgent order – or simply not being able to fall asleep, in which our reflection on the mirror is a major offence against our aesthetic sensitivity.
I have already experienced all of that and I am going to ease your burden by sharing my solutions to find a way out of the (self-induced) plight.
BEST THING if you have a little more time in your morning routine: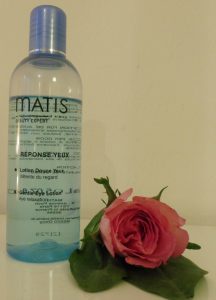 Eye-lotion, to be always kept in the fridge as a precautionary measure: five minutes on your tired peepers.
Please, let me gush about a special product (non-sponsored): Matis Reponse Yeux Lotion Douce. My trusted beautician of 37 years – Angela in Italy – recommended and used it on me. It is simply awesome! No matter how irritated my eyes may be (even with peeling skin), they are "operational" again after applying the lotion.
The eye-lotion contains cornflower and witch hazel extract, by the way easily detectable by their smell.
You still have a little time left or you need something different from a lotion?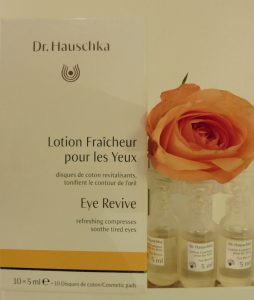 Then Eye-pads would be your friends! There is a veritable cornucopia to choose from … also in this case, it is advisable to keep them refrigerated … my go-to product are the Dr. Hauschka's compresses Eye Revive!
No time for lotions or other frills?
Eye gel! Of course, straight (and cold) from the fridge AND with a roll-on applicator!
Products already used by me: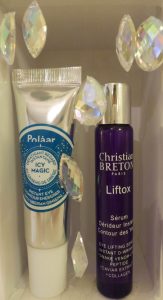 Christian Breton Liftox eye serum. This serum comes with an impressive array of active ingredients: glycerine, allantoin and soybean germ extract, to soothe and moisturize your skin, caviar ??‍♀️ (no idea about its usefulness, but it sounds nice), collagen, various peptides (they theoretically stimulate collagen production), antioxidants and … an active complex (Dipeptide Diaminobutyroyl Benzylamide Diacetate), that is considered a safer alternative to Botox and is mostly used in anti-aging products to inhibit muscle contractions and reduce wrinkles.
BUT MY FORAY INTO COSMETIC SCIENCE ENDS HERE!!
Alternatives:
POLAAR – Icymagic Instant Eye Contour Multi Energiser. Action: Fortified with Siberian Ginseng, an adaptogen that has a revitalising tonic effect on skin, the soothing gel formula tones and brightens the eye contour whilst Tetrapeptides visibly reduce oxidative stress and preserve skin elasticity. With continued use, the look of dark circles and fine lines is minimised – we already spoke about peptides!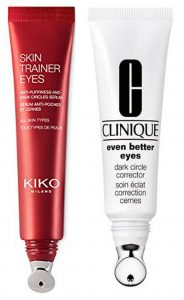 Even Better Eyes Dark Circle Corrector of Clinique: Hydrates and Brightens. Lightweight eye cream that is clinically proven to visibly lighten dark circles by 30% in 12 weeks (this is the claim of Clinique, not mine). Cooling metal tip helps massage away puffs (still, this formula does offer a panoply of anti-aging ingredients to help strengthen skin around the eyes).
From Kiko you can buy a Kiko Skin Trainer Eyes – it is a serum that also acts as a personal trainer, offering targeted action to effectively combat bags and dark circles under the eyes.
I have listed here a few products which have in common a gel texture and a roll-on or metallic applicator.
And since we are talking about "first aid measures" but we still do not want to forget the long-term care of our eyes, I am going to mention a couple of eye creams which offer treatment and an optical improvement of "faulty situations" ?!
In this instance I will mention only very light textured products because they offer the right mix of actives and cosmetic substances (I mean minerals which helps disguise dark circles with a combination of three cosmetic pigments: titanium dioxide, mica, and iron oxides. The titanium dioxide (the most prominent) provides a brightening effect, the mica adds shine to help reflect light away from shadowed areas). Nevertheless the actives are the very best you can get. The only difference with many other creams is that they have a light texture, more similar to a serum.
In random order: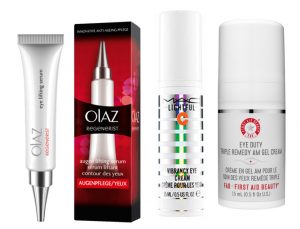 Olay Eyes Eye Lifting Serum – combines the power of proven anti-aging ingredients with a glowing finish for a more youthful appearance. The mix includes skin-replenishing glycerine and niacinamide for a smoother, more youthful-looking complexion, together with antioxidants and peptides (them again!).
M.A.C. Lightful C Vibrancy Eye Cream – blend of cell-communicating ingredients, antioxidants and anti-irritants. Caffeine, sodium hyaluronate, ginkgo biloba, sodium PCA and several peptides, along with a form of vitamin C, round out this impressive formula.
First Aid Beauty Eye Duty-Triple-Remedy contains various beneficial ingredients for skin, like skin-replenishing ingredients, skin-restoring ingredients, antioxidants, and peptides.
We now have the part concerning treatments behind us.
What follows now is what I like to call "a Girl's Best Friend": make-up. Better known as: if there are any doubts, cover it with plaster ?
Concealer is of course a huge help and I do not think that I have to mention particular products – I am quite sure that every woman owns one or more of various preferred brands …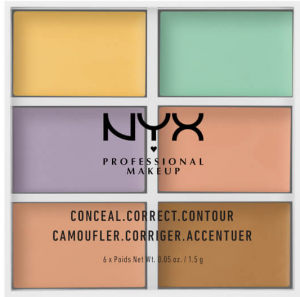 BUT!! If there still someone who wishes for a guide across the scheme of various coloured concealers, I can offer you one as follows (the picture of the Nyx palette is only an example):
Beige or skin-coloured: beige concealer primarily with dark circles and aging and pigmentation spots.
Yellowish concealer: with blue fine veins under your eyes, since yellow, as a complementary colour of blue offsets the bluish shade.
Green concealer: it is particularly well suited to cover red spots, spider veins or pimples. The green colour subtracts intensity from the red areas and lessens the appearance of impurities.
Bluish or violet concealer: if you have a rosy complexion choose a bluish concealer, if your skin is sallower, choose a violet-coloured concealer which makes your complexion look more vibrant.
CAUTION: If you are not planning to use a foundation on top of your concealer, do not use a "coloured" one, since the colour would stay visible. In this case, always opt for a nude or skin-coloured concealer.
Colour your bottom waterline with a light kajal or eyeliner – please never choose white, rather a nude colour – I use for instance the CHANEL eyeliner Le Crayon Khôl (intense eye pencil) in the nuance Clair (No. 69).

Afterwards… shimmering eyeshadow on your eyelid, brighten up the inner corner of your eyes with a silvery (or shimmery) eyeshadow, curl your lashes with a curler and use LOADS of mascara to finish!
HOW DID THE RESUSCITATION PROGRAMME WORK??