Today's proposal for a make-up to be worn throughout the day and the evening (with a slight pepping up) is from the new Huda Beauty Desert Dusk Palette.
A description of the palette with the words of Huda Kattan, beauty blogger and creator of this beautiful range of eyeshadows: "… filled with vibrant, highly-pigmented shades that reflect the exotic landscape of the Arabian desert around us. We've introduced three new formulas to reflect all its dazzling mystery and charm, in particular the iridescent duo-chrome formulas just completely capture the mysterious desert mirages."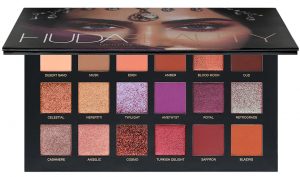 My personal opinion: a versatile assortment of colours mostly in the warm spectrum. Eight of them are matte shades, 6 'pressed pearls' (high shimmer, velvety finish shadows), 3 'duo-chrome toppers' which can be worn alone, or layered over eyeshadow and 1 pure glitter.
The colours look great with both brown and blue eyes and are wearable also for older women, since there are no extremely dark shades (no blacks or dark blues).
But I do not wish to be utterly verbose, so I am going to describe the palette in successive posts and I will limit myself to my today's look.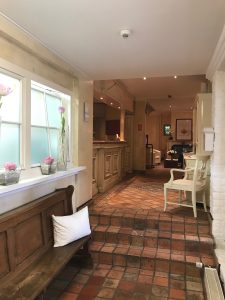 As I explained, the look had to satisfy both the "daytime needs" and the evening: I was working at a conference during the day but afterwards we left as we had a private dinner invitation in Cologne (which is approx. 170 km from my home city of Wiesbaden).
So now I am proceeding to "delight" you with pictures of the Hotel Lobby as well as the dinner setting, which was truly beautiful.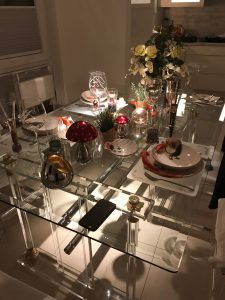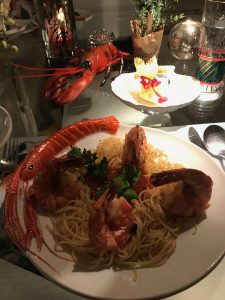 And my uncanny sixth sense led me to choose colours in harmony with the setting 😉
WELL …. NOW MY MAKE-UP: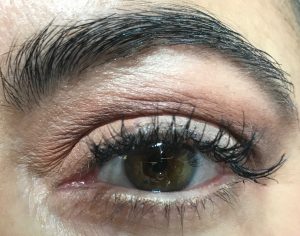 My eye for the day:
Desert Sand on the top, under the eyebrow
Eden on the lid
Oud to define the crease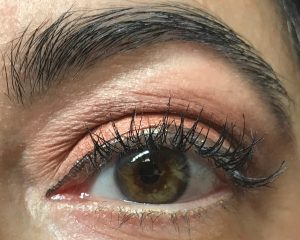 For the night:
I added
Blood Moon on top of Eden
Eyeliner of Urban Decay in the colour: Dark force – somehow fitting for a night out! But: May the force be with you ;-).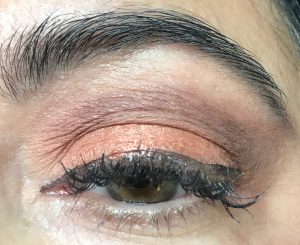 Here the colours I used for a better understanding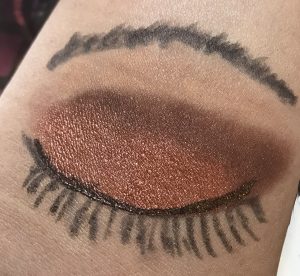 As you can see, I was all set for the day as well as for the night!
Check again in a couple of days, as I will be posting more about the palette and some suggestions for lipsticks during the festive days!