I recently received a free sample from the company Hysalma with an antiperspirant from L'Axelle and underarm sweat pads. The fact of having received these samples free of charge does not affect my opinion of the products.
First the antiperspirant:

The bottle itself is very long, since it holds 100 ml of product, and carries, unbelievably so, the picture of a person showing his/her armpits 😉
The metallic spray piece conveys an impression of this being high quality product and not cheap in neither fabrication nor quality.
The antiperspirant is without alcohol or fragrance and free from preservatives. It is additionally tested for optimum skin tolerance.
My experience and opinion:
I have been using the product for a month and in different weather conditions and circumstances.
First, I tested it in Malta, where there are high temperatures and where I do a lot of good physical activity, as I walk uphill on a daily basis for 4 km.
Even after copious sweating, I was not producing malodourous fumes 😏.
Also during simultaneous translation in a small booth, where it gets very hot because of the soundproofing, I did not notice any unpleasant smells at any stage.
Therefore, I have formed a very positive opinion about the product.
Furthermore, I appreciate that the antiperspirant is fragrance-free. That means, that you are not going to diffuse a (sometimes) cheap scent and it will not interfere with your favourite perfume.
My skin was never irritated after its application, not even after shaving.
An added advantage for me is that the bottle has a pump spray atomizer without propellant as I for instance have a strong reaction to propellants on my armpits.
The product is long-lasting, as it is liquid, and you need to press the pump only once or twice to dispense the right amount of antiperspirant.
Last observation:
We are talking about an antiperspirant which almost always contains the by now notorious aluminium salts.
Aluminium salts are suspected to be cancer causing.
Everybody should decide for himself whether to take the risk.
But speaking for myself, up until now, I have not been able to find effective products preventing odour formation without aluminium salts.
Also, there are professions for which it is unconceivable to delight fellow humans with "eau de armpits".
And now my opinion about underarm sweat pads:
very, very thin, with an absorbent core which immediately soaks up sweat and without active substances that could irritate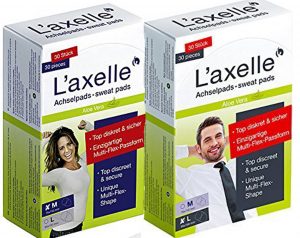 your skin.
They are available in M and L sizes, to fit everyone.
I stuck them on dark coloured shirts, since they are visible under thin and light shirts and after a couple of minutes I completely forgot about them. They stuck to my clothes the whole day without shifting and it was still possible to remove them without leaving a trace of glue.
I would not say that I feel an urgent need to use them, as I am thoroughly satisfied with a deodorant, but I suppose that there are occasions and persons that would deem them necessary.
My summarised evaluation: recommended!
Regarding the aforementioned aluminium salts, I do not think this is the right place to start an exhaustive discussion about the topic. Nevertheless I wish to give my readers the possibility to develop an informed opinion, therefore I am inserting here a passage from an article of Scientific American regarding this subject. Those interested can of course read the whole piece: "Adding to uncertainty, in the 1990s an anonymous e-mail chain letter warned that antiperspirants caused breast cancer. Ted Gansler, director of medical content at the American Cancer Society in Atlanta, says that in the past seven years, his organization has received thousands of e-mails and phone calls in response to this chain letter.
The letter claims that inhibiting perspiration causes harmful substances to be trapped in the body where they form cancer. But sweat is mostly electrolytes and water, Gansler says, and sweating is not a significant mechanism for expelling unwanted compounds, more commonly eliminated in urine and faeces … The idea that toxics would enter the body through the underarm, migrate to the lymph nodes and then travel to the breast may have more to do with geography than biology. "Why you would think that antiperspirant would somehow go upstream and get into your lymph nodes and then somehow get into the breast is unclear," says Timothy Moynihan, education chair and consultant for the division of medical oncology at the Mayo Clinic in Rochester, Minn. "It doesn't make sense other than the fact that it's in the neighbourhood."