The winter is in full swing and shows off with its multifaceted colours … everything shines in bleak grey: sky, road, house walls and … yikes! Even our skin!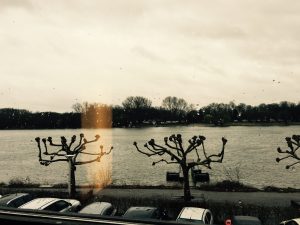 I know, it is a conspiration against skin and spirits, but it is still possible to do something about it!
That's why today I wish to write about beneficial treatments which are always a spoil, no matter if you do them at home or at your favourite beautician.
Indeed I take this opportunity to present the treatment I received last year at the Dr. Rimpler/Isabelle Lancray premises in Hannover. It is clear to me that a year has since passed by, but:
I wanted first to test the products which I was given
Exactly now, during this desolate winter time is the perfect moment to talk about cuddling and pampering our skin.
Let's start: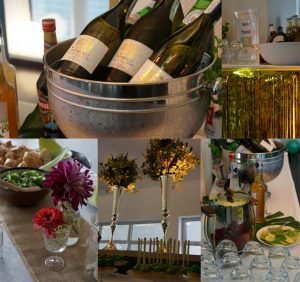 I already wrote in my prior post about both the wonderful reception in Hannover and the very interesting company. On this occasion, I would like to focus on the products which I was given to try.
After the reception and the product presentation we moved on to the treatment room. The room was big indeed, because it was usually dedicated to the beautician training. Nevertheless succeeded the prospective beautician brilliantly in creating a relaxing and cosy atmosphere. And this is an aspect which I find enormously important: the feeling that someone competent takes the time to take into consideration the individual requirements, wishes and needs of its customers makes me and my skin much more receptive for the treatment. The personal touch is becoming absolutely essential for us as clients to enjoy the treatment and for it to be successful.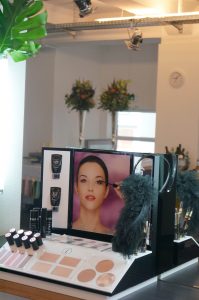 You can follow in the PDF file (just click on it) each step of the treatment I enjoyed, including all employed products:
My conclusion from this experience is the following: afterwards my skin felt soft and smooth without tackiness. I especially enjoyed the massage (which is ultimately the reason why a beautician is irreplaceable). The treatment went a long way towards restoring my strength and of course my beauty, as I had to stand up at 5 in order to arrive on time in Hannover.
Like I said: all products used during the treatment were also given to me to take home.
Indeed, I happily used them, since my impression from the treatment was so very positive.
I was very satisfied with the serums, the moisturizer (ILSACTIVINE Soufflé de Beauté) and the night cream, all of which were well tolerated by my skin.
The moisturizer was, as the name suggests, a mousse and therefore light and melted on the skin. Perfect in the summer time, because it moisturizes and replenishes the skin without leaving an oily film. For additional anti-aging care the Elixir was en pointe. The eye serum was excellent in softening the eye contour area and blurring the fine lines. Above all, it did not irritate the skin but still met my needs regarding skin care, as I never use creams before applying make-up on my eyes (to avoid sliding and smudging!).
As the temperatures fell down, the Soufflé de Beauté became too light, even for my combination skin. This is still not a problem, as I "layer". This means that my daily routine consists of a cleanser, a tonic, followed by an essence or a lotion, then a serum (or two) and at the end the moisturizer. With a particular harsh climate – very cold and windy – I add an oil on the damp skin.
My "Beauty bag" carried additionally a cream for night care: Isabelle Lancray Beaulift Crème jeunesse du visage – nuit. My skin practically inhaled it and I this one I shall definitely buy for myself again! The cream is of course not as light as the mousse, but I like to pamper my skin with more nourishment at night (even if my greasy visage is somewhat underappreciated by my husband). Nevertheless, it is a pleasure to be greeted by a regenerated and … glowy skin in the morning!
Here a description of products: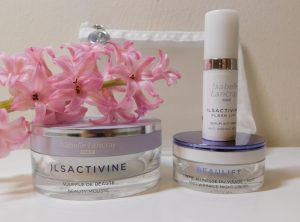 ILSACTIVINE Flash Lift: for the eyes – lifting ingredients through microalgae, rockroses (Cistus salvifolius, C. creticus) and dong quai or "female ginseng". The active substances minimize visibly the wrinkle depth, firm and lastingly regenerate the skin.
ILSACTIVINE Elixir Volume Plus: a volumizing serum with cranberry seed oil, vitamin E and Dictyopteris extract (Sea Fern). An active ingredient complex ensures a visibly replumped skin.
ILSACTIVINE Soufflé de Beauté (Beauty Mousse): Squalane – an ingredient found in skin's own sebum and vital to keep it hydrated and smooth – walnut extract, castor oil, active ingredient complex with UV protection, vitamin E. All these are substances with proven anti-aging effect and with anti-oxidant and restoring properties.
BEAULIFT Crème jeunesse du visage – nuit: Peptide combination for muscle relaxation, green walnut, encapsulated marine collagen, encapsulated hyaluronic acid and marshmallow. Intensive anti-wrinkle / night cream with a long lasting effect on the skin. Smoothening, restructuring, firming, intensive moisturization.
A truly significant aspect of this cosmetic company is that all products are developed and produced in their own facilities. This is nowadays quite exceptional and it is indicative of high motivation and the personal commitment of the company owners.
And we come to the end of a quick presentation of the products of an impressing company that I can honestly recommend.