Eyelashes, eyelashes, eyelashes!
Yes! They are my true obsession, much more than, let's say, lips!
You know, the whole thing with magnetic eyes, seduction, eyes mirror of our souls …
And eyes are honestly unconceivable without eyelashes
Problem: I am obsessed by them but my eyelashes in their natural form are totally (under)average AND I have always been especially clumsy in applying false lashes.
Imagine my happiness as I heard about magnetic lashes!
As I am a generous person who doesn't hoard her happiness, I think you should partake:
So, let me introduce to you: lash fx Magnetic Lashes in "Gigi" (Dramatic) (25.93 €). A commentary: I paid a lot of money to acquire them many months ago, for research purposes, of course. But I just discovered that you can have them delivered from amazon.co.uk to Europe (in my case in Germany, don't let me get started on delivery in Malta) for the price shown above. They are worth the money, I have been using them uncountable times since last June.
By the way, I am wearing in this picture the amazing lipstick of Nyx "Slip tease" in Karma suit ya – a really good one, but I won't comment on it here ?
And Ardell MAGNETIC ACCENT LASHES 001. They are of course more widely available.
Why am I suggesting that magnetic lashes are a good idea?
Well, as I said, I am clumsy when it comes to applying the common lash strips with glue. Much more important is though that I seldom have time to lose trying to stick those strips to my eyes. I mean, there are of course occasions in which I have plenty of time to get ready for a nice evening out. But I am often in a hurry …
I mean, with these fabulous lashes you can even keep your make-up minimal and still look gorgeous or … magnetising …
The very strong argument in their favour is that you can reuse them a myriad of times. Just clean them now and again …
A caveat: If you have very thin lashes which are not black, I imagine that these lashes are not for you. They contrast simply too strongly with your natural lashes and they wouldn't stay put.
How to proceed? You MUST apply mascara first. It actually doesn't matter how well or which brand. Just a brushing, but it is necessary to give a gripping surface to the false lashes as they otherwise slide off your own lashes.
Applying method: first the upper line and then the bottom. The lashes I am showing here must begin in the middle of the eye, because they are "accents" and do not cover the whole line.
They are also available for the whole lash line, but I wasn't especially happy with them, since they get heavy.
You can admire me and my lashes …
I personally loved the lashes of lash fx. They have only one magnet. Once you have managed to curve the lash a little and found the place in your eye (in the middle), where the line is straighter, they are barely standing out and they are still beautiful. Above all: very, very quick to apply. If I am in a huge hurry, I apply mascara first, then make may face. In the meanwhile, the mascara is dry, and you can fix the magnetic lashes without problems.
Lash fx PROS: very quick and appear more natural.
They come with a pretty, glittery case, which is also magnetic.
CONS: don't see any
Ardell PROS: available everywhere and cheaper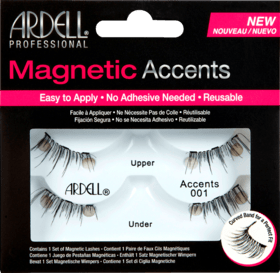 CONS: crazy, I know, but the THREE magnetic elements make them more difficult and not easier to apply. The magnetic elements are of course more visible. AND: where is the case? The package they are delivered with is not ideal to store them.
At the end, you have to decide for yourself about your preferences, but I suggest to keep your eyes open for them because they are worth it!